Persephone / Persephone features the multi-panel collaborative painting by Elody Gyekis and Joanne Landis. This large installation is inspired by the narrative arc of the Greek goddess Persephone's story.
Gyekis and Landis layer paint on each other's work and alternate the roles of both artist and Persephone. They explore the themes of birth and death, love and renewal, separation and reuniting, mother and daughter, and the seasons of the year. The artists both celebrate the power of women and explore diverse feminine mythologies and archetypes in their individual work. Together they build on these themes with mutual trust and respect, their collaborative process revealing the alchemical magic of collaboration.
This exhibition is made possible by Highmark, our 2021 – 2022 Lobby Gallery sponsor.

Elody Gyekis
"My work is fueled by collaboration, driven towards beauty, and preoccupied with the feminine experience. It explores the internal battles faced by women as we confront society's prefabricated narratives and realize our unique identities." – Elody Gyekis
Gyekis is a painter, animator, and sculptor who uses visual storytelling to reinvent traditional gender roles. She earned her BFA in Painting and Ceramics from Penn State and her MFA in Painting at the New York Academy of Art. Her paintings have been exhibited in solo and group shows primarily in Pennsylvania and New York, and also across the USA, Central America and Europe. Gyekis has participated in artist residencies in Romania and France and has taught painting workshops in Pennsylvania, West Virginia, Honduras, and Costa Rica. In addition to fine art, she has been a community arts organizer and muralist for many community mural and other public art projects in Pennsylvania and beyond. 
Joanne Landis
"I am a story teller – a narrative painter. My figures, mostly women, are often meditations on archetypes, myth or personal experience. This allows me to build an environment inhabited by beings with all that it means to be human, alive and still in a dream." – Joanne Landis
Landis' paintings develop much like dreams, altering and growing layer after layer in response to her evolving emotions and visions. Her career has evolved from poet to fashion illustrator to fine artist. After years living in New York City, she has made her home next to virgin forests in central Pennsylvania. Landis taught illustration and painting at Fashion Institute of Technology in NYC and Drexel University in Philadelphia. After working small, in more subdued colors in her New York apartment studio, her move to the countryside and artist residency in Virginia began the transition to the large, vibrant, colorful celebrations that have come to define her work.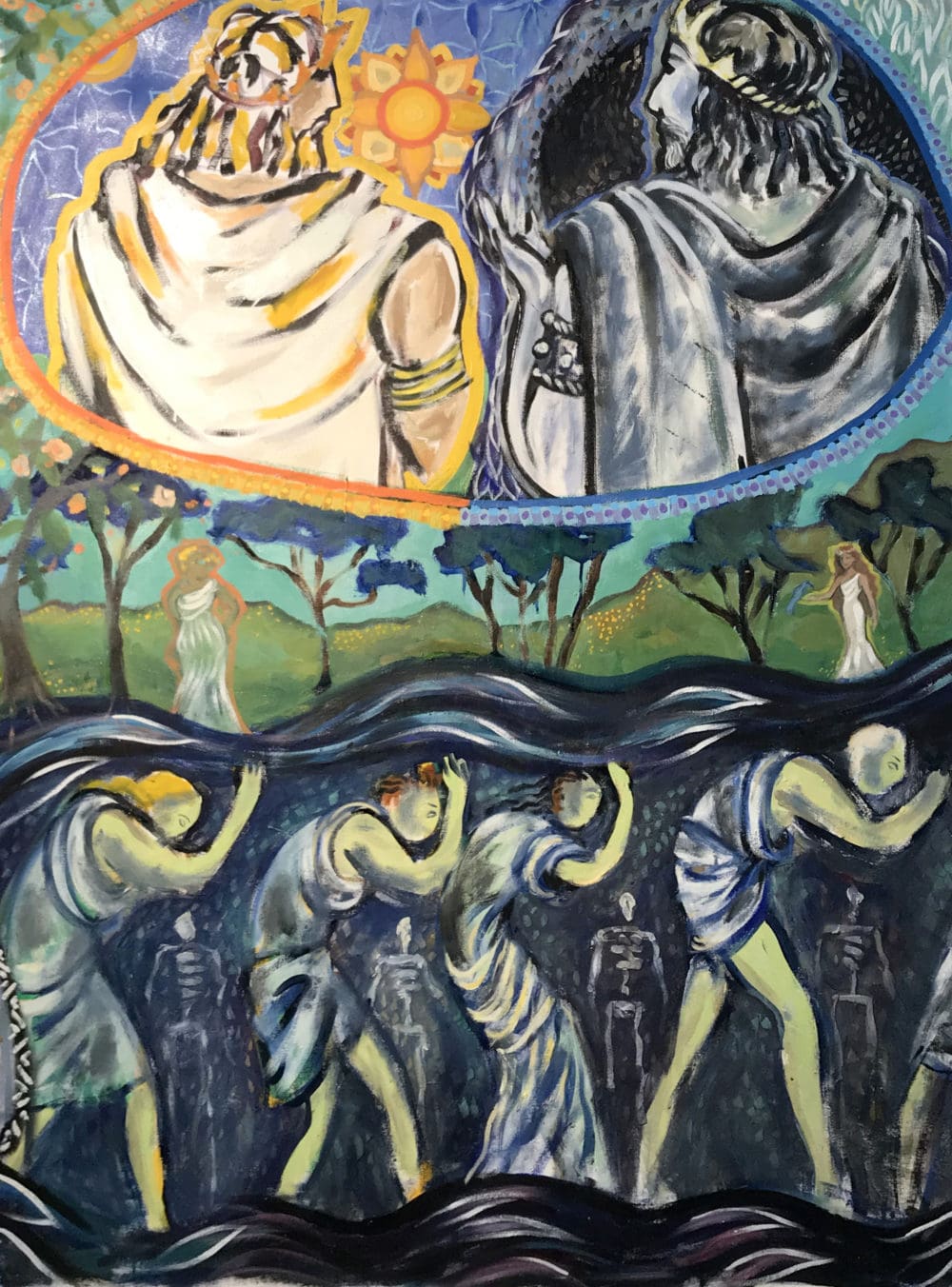 Third in the Burg
Friday, May 21, 2021
5:00 – 8:00 pm
Free Admission
Artist Talk – Elody Gyekis & Joanne Landis
Sunday, June 13, 2021
3:00 pm
Join artists Elody Gyekis and Joanne Landis in the Lobby Gallery to discuss their collaborative exhibition Persephone / Persephone! The talk is free with standard admission. It will begin at 3pm with q&a to follow.
View Event
Third in the Burg
Friday, June 18, 2021
5:00 – 8:00 pm
Free Admission
Third in the Burg
Friday, July 16, 2021
5:00 – 8:00 pm
Free Admission