Historic Memory features the work of painters Joerg Dressler and Shawn Huckins. Dressler and Huckins address the collective, or historic, memory of Western culture and its influences on our contemporary consciousness. Society's collective memory acts as a recording of past events, and the shared recollections shape our identity. Inherent in these memories are the biases and prejudice of the social majority, and they are subject to change as perspectives shift over time. Artists utilize historic memory through the adaptation of historic symbols, recording/sharing stories, and social critique.
Date: July 31, 2020 – November 8, 2020
Venue: Lobby Gallery
Exhibiting Artists: Joerg Dressler and Shawn Huckins
Joerg Dressler
Joerg Dressler's work is driven by humanity's perceptions of nature. Disjointed experiences of the seen and unseen are reassembled in his paintings, creating a reality of its own. Dressler's evocative, sensual paintings derive from a sincere dialogue between the representational and the abstract, the conceptual conscientiousness and pure spontaneity.
Read Bio
Dressler was born in Hanau, Germany. He received his MFA from the Hochschule für Gestaltung in Offenbach, Germany, in 1994. Additionally, he studied at the École Nationale Supérieure des Arts Décoratifs in Paris, France. Dressler moved to the United States in 1996. His work has been featured in publications such as the Boston Globe, Artscope magazine, and Provincetown Arts magazine. He has pieces in the collections of the Provincetown Art Association and Museum, Leslie-Lohman Museum of Gay and Lesbian Art, and Boston Private Bank. He is represented by Alden Gallery, Provincetown, MA and Clark Gallery, Lincoln, MA.
Shawn Huckins
Shawn Huckins' new series focuses on society's relationship with the past and how it currently affects the state of the world. These pieces juxtapose imagery from different points in history, a reflection of the moments before social collapse. Huckins' paintings remind the viewer of the importance of learning from past mistakes, and what happens when those lessons go unfulfilled.
Read Bio
A New Hampshire native, Huckins now lives and works in Denver, Colorado. His work has been displayed in private and public collections across the country, including The Museum of Fine Arts in Boston, The Tucson Museum of Art, The TIA Collection, and The Vicki Myhren Gallery at The University of Denver. Huckins has received grants from The Haven Foundation of Maine, The Artists' Fellowship Inc. of New York City, Colorado Creative Industries, and The Connecticut Commission on Culture and Tourism, among others. His work has been featured in notable publications such as Forbes, Juxtapoz, Hi-Fructose Magazine, Huffington Post, New American Paintings, The Jealous Curator, and The Advocate. 5280 magazine named Huckins as one of five artists to collect now in 2015. Huckins studied at Keene State College in New Hampshire and The University of Wollongong in Australia and received his BA in Studio Arts in 2006.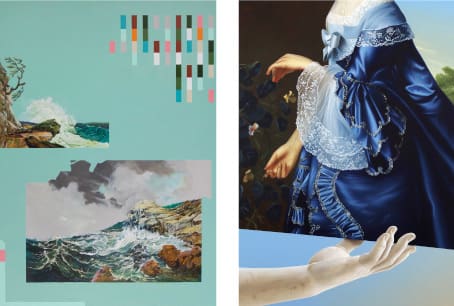 Third in the Burg
Friday, October 16, 2020
5:00 – 8:00 pm
Free Admission
Third in the Burg
Friday, October 16, 2020
5:00 – 8:00 pm
Free Admission