Cojiform is a multidisciplinary interactive art project by Pittsburgh-based artist Isaac Bower. This unique installation, on view in the Susquehanna Art Museum DeSoto Family Vault, combines sculpture, participatory art, photography, video, mindfulness, and creative problem-solving.
Cojiform began with three small clay sculptures. Having long been interested in repetition and pattern, Bower cast hundreds of the forms by making molds of the sculptures. He discovered they could be stacked, nestled, hooked together, and arranged into a seemingly endless array of intriguing designs. While the sculptural outcomes were exciting, the process itself was equally valuable, combining a calm and mindful state of flow with surprising creative discoveries.
In his studio, Bower works with the forms daily, often using "rule-based" approaches to build increasingly complex outcomes. He also facilitates participatory exhibitions and events with people of all ages. To date over nine thousand people have engaged with Cojiform, often inventing new designs and approaches of their own. In an era where we focus so much on screens, Cojiform invites people to use their hands and minds in the "real world" with patience and persistence. At the foundation of Cojiform is trial-and-error experimentation, a mode of learning that is fundamental to growth and creativity.
Because everything that is created with Cojiform is temporary, photography and video are used to document the outcomes that emerge. This has allowed Bower to categorize, name, and share many of the designs. Cojiform often resembles collective traditions such as quilting or origami, where known designs and techniques can be passed on to other people who can elaborate upon them.
About the Artist
Isaac Bower's artwork has often been rooted in pattern and repetition using mold-making and casting, woodworking, drawing, and printmaking. Since establishing his Pittsburgh studio in 2005, Bower has completed a range of commission projects for commercial and residential spaces. He has focused primarily on participatory art approaches for the last six years. He has designed and led a range of unique interactive exhibitions and workshops that often blend art making, mindfulness, and creative problem-solving. These programs, such as Cojiform, have been enjoyed by thousands of people of all ages within libraries, museums, senior centers, schools, corporations, and non-profit spaces. Bower received his MFA in sculpture from West Virginia University and BFA in sculpture from Edinboro University of Pennsylvania. He lives with his wife and their daughter in the Polish Hill section of Pittsburgh.
Visit the artist's website here.
Date: October 20- December 4, 2022
Venue: DeSoto Family Vault
Sponsor: Joseph T. and Helen M. Simpson Foundation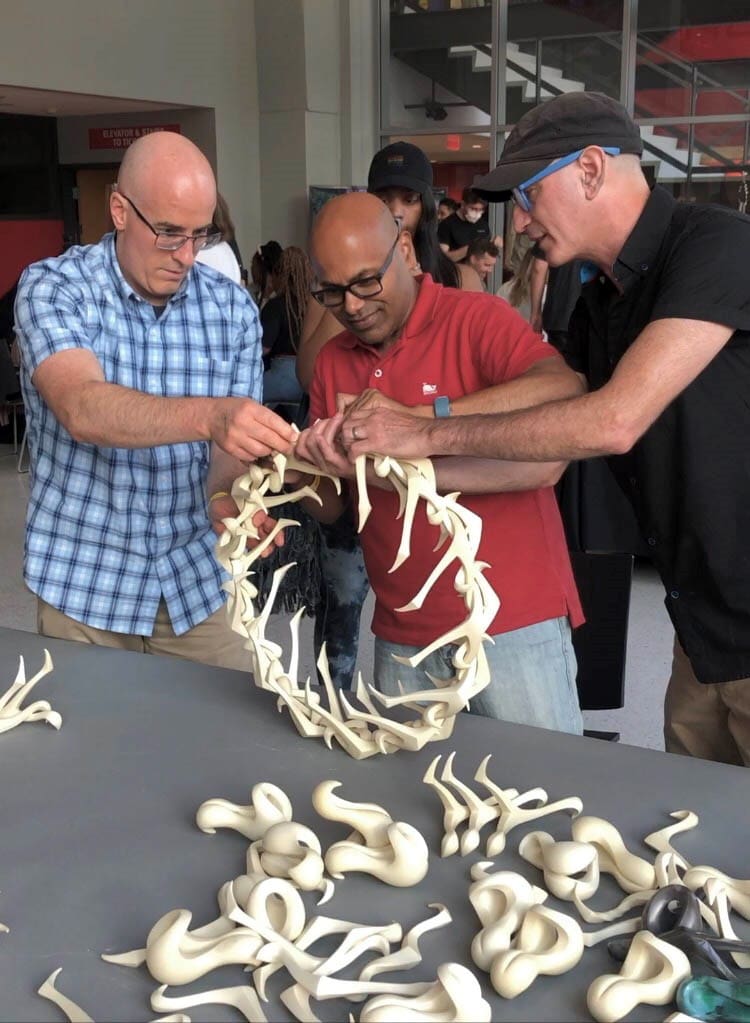 Third in the Burg – Meet the artist!
Friday, October 20, 2022
Artist Isaac Bower will be
at SAM 6:00 – 8:00 pm
Free Admission
Third in the Burg
Friday, November 18, 2022
5:00 – 8:00 pm
Free Admission